WalmartOne is a portal for Walmart employees. There you can check your schedule, view your paystubs online, review benefits information. To access WalmartOne portal you need WalmartOne Login which is only available for Walmart employees. Make sure you have your WalmartOne Login ready when accessing this portal.
Walmart Associate Login
In order to login to WalmartOne services, you need to visit https://authn.walmartone.com/login.aspx web page.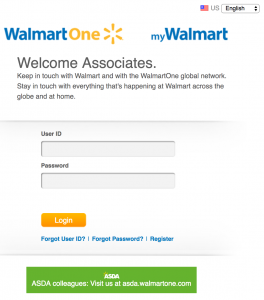 If you know your user ID and password you can just proceed with typing them in and pressing Login. If you don't have user ID and password you need to click on "Register" link.
Registration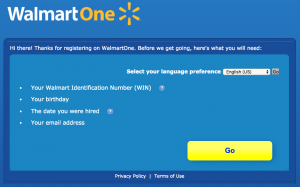 When you get to WalmartOne registration page you will need the following information to fill in:
Walmart Identification Number (WIN)
Your Birthday
The date your were hired
Your email address
Once you submit all this information you will receive an e-mail with your login information.
WalmartOne App
As a Walmart employee, you can use WalmartOne app which makes it easy to view your paystubs and schedule from your iOS or Android mobile device.
iOS app is available at https://itunes.apple.com/us/app/wm1/id873227705?mt=8
Android app is available at https://play.google.com/store/apps/details?id=com.walmartone.android&hl=en