ihaveinsurance.com is a website by Wells Fargo to verify whether customer requesting a home or auto loan has necessary insurance.
Before you proceed with entering your information into the website make sure that you're browsing legit ihaveinsurance.com website. Lots of phishing attacks start with mail and URLs which lead to malicious websites. You can check out our Anti-phishing guide on how to quickly check SSL certificate for the ihaveinsurance.com and make sure that you're accessing an official ihaveinsurance.com website.
Below are details we got for ihaveinsurance.com SSL.
Country: US
State Province: North Carolina
Locality: Winston Salem
Organization: National General Insurance Company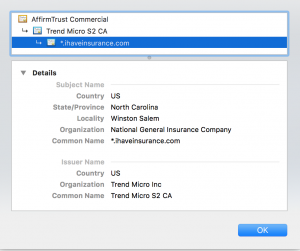 Verification Process
Proceed to https://ihaveinsurance.com/.
If you have a reference number for an existing verification you can start by typing it in the form together with an access code and zip code.
If you don't have a reference number you can proceed with new verification by clicking on "I don't have a reference number" link. On a next page, you will need to select the type of loan you're applying to (home or auto) and provide your (or your customer) details. Once you finish filling the form, click continue to receive information whether insurance verification succeeded.
If you don't want to use the website above you can verify insurance by providing following details to Wells Fargo via mail or fax.
Complete owner's name and address
Collateral year and make/modelVehicle Identification Number
Vehicle Identification NumberWells Fargo Dealer Services account number
Wells Fargo Dealer Services account number"Wells Fargo Dealer Services" as the loss payee of the collateral
"Wells Fargo Dealer Services" as the loss payee of the collateral
You will need to submit it to the following mail address:
Wells Fargo Dealer Services
Attn: Insurance Service Center
PO Box 29296
Phoenix, AZ 85038-9296
Or fax it to the following fax number:
1-866-595-1762
Useful links
Wells Fargo Evidence of Insurance Dealer Services
https://eservices.wellsfargodealerservices.com/Help/GetHelp?help=HelpInsurance
Wells Fargo Insurance Verification Phone:
1-800-368-6805
Wells Fargo Insurance Verification Fax:
1-866-595-1762