The text below is a short guide for employees who'd like to access Cracker Barrel employee login page and manage their information online.
Cracker Barrel operates 639 restaurants and gift stores in 43 states. It was founded on September 19, 1969 by Dan Evins. Cracker Barrel currently employs around 70,000 people.
Steps to Login to Cracker Barrel Employee account
Navigate to https://employees.crackerbarrel.com or https://employees.crackerbarrel.com/home. Make sure that your browser displays a lock icon next to the website address in the address bar. This ensures that your connections with the website is secure and could not be compromised. Avoid accessing websites with sensitive information from internet cafes or other places with potentially unsafe internet connections.
Type in your Employee ID and your password. Make sure that you keyboard Caps Lock is off.
Only check "Remember me every visit" checkbox if you're using employees.crackerbarrel.com from a private computer. Checking it on public computer may allow someone else to access your personal information.
Right click on "LOG IN" button to complete log in process.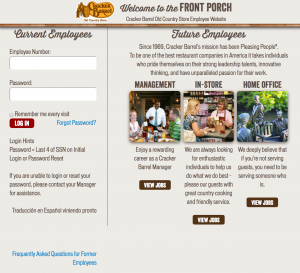 Problems during Login
– If your password is not working on the login page make sure that your Caps Lock button is turned off and you are typing letters in the correct case.
– If this doesn't help you need to reset your password by clicking on "Forgot password" button on the login page.
– Follow the steps provided to reset your password and get a new one.
Other Cracker Barrel employee websites
– To view your wage statement online please visit http://www.onlinewagestatements.com/cbocs and login with your employee ID and SSN. Former employees can access their W-2 via https://www.onlinewagestatements.com/w2/cbocs.w2
– Check this page https://employees.crackerbarrel.com/formerfaq for instructions on how to do things like changing address for W-2, setting up COBRA, eligibility for rehire and many others.
How to Contact Cracker Barrel
You can call Cracker Barrel Guest Relations number at 800-333-9566 on Monday-Friday from 8am to 5pm CST (Central Standard Time).
You can also reach Cracker Barrel via mail at:
Guest Relations
PO Box 787
Lebanon, TN 37087
You can also use customer support support and feedback forms at https://www.crackerbarrel.com/connect/contact-us