UPSers.com is a portal for UPS employees. There UPS employees can check their schedule, view their paychecks online, review benefits information. To access UPSers portal you need UPSers Login which is only available to UPS employees. Make sure you have your UPSers Login ready when accessing this portal. Navigating through UPS employee portal could be challenging when you are a new user. That's why we created this guide with some tips and tricks on how to access UPSers.com portal.
UPSers portal login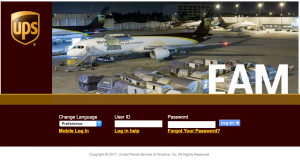 If you know your user ID and password you can just proceed with typing them in and pressing Login.
If you don't remember your UPSers user ID and password below are instructions where to find them.
User ID: Your User ID is your Employee ID (which is different than your SSN) and may be found on your pay stub.
PIN: Your Personal Identification Number is a one-time password you use during your UPSers.com registration. (Note: PINs are case-sensitive; enter the letters in your PIN in lower-case.)
How to construct your PIN:
Combine:
First 2 letters of your Last name (for example Smith becomes sm)
Last two digits of your (for example 1957 becomes 57)
Last 2 digits from employee ID (if your employee id is 0035612 use 12)
So for example if your Last name is smith, you were born in 1957 and your employee id is 0035612 then your PIN is sm5712
Problems during Login
– If your password is not working on the login page make sure that your Caps Lock button is turned off and you are typing letters in the correct case. User ID and password are case-sensitive.
– If this doesn't help you need to reset your password by clicking on "Forgot your password" button on the login page.
– Follow the steps provided to reset your password and get a new one.
– If none of above helps please use following technical support contact form https://ep.ups.com/helpdeskpub/techhelp?preferred-language=en
UPSers.com help and support
If you are unable to login or have any other issues with UPSers.com portal you can first read detailed instructions on https://eid.ups.com/UPSRegistration/upspublic/en-HelpInstructions.jsp#
If your question is not answers after going through help you can submit your question via technical support form at https://ep.ups.com/helpdeskpub/techhelp?preferred-language=en
You can also find additional information on UPSers twitter at https://twitter.com/upsers