MyHR CVS Portal is an HR benefits portal for CVS Pharmacy. CVS Pharmacy is a subsidiary of the CVS Health, American retail and health care company. CVS Health is headquartered in Woonsocket, Rhode Island.
MyHR CVS Portal is hosted and maintained by Aon Hewitt – the global leader in human resource consulting and outsourcing solutions.
My HR CVS Support Phone Numbers
myHR support hours
between 8:00 a.m. and 8:00 p.m. Eastern time, Monday through Friday
Toll-Free Number
1-888-694-7287 (888-my-HR-CVS) – For Health and Welfare, Press 2.
MyHR CVS Login
To login into My HR CVS benefits portal you need to have User ID and Password for MyHR system. If you don't have User ID and Password you can get it by clicking on "Are you a new user" link on CVS My HR Login page and following suggested steps. You will need last 4 digits of your SSN and your birth date to proceed with registration.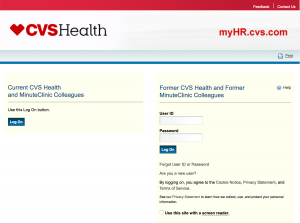 As part of the registration, you will also set up a password hint which you can use in case you forget your password. If your password is "apple" you can use "fruit" as a password hint. But don't create a password which consists of just of one word. Make sure to use digits and special symbols in the password.
Problems during Login
If your password is not working on the login page make sure that your Caps Lock button is turned off and you are typing letters in the correct case.
If this doesn't help you need to reset your password by clicking on "Forgot password" button on the login page.
Follow the steps provided to reset your password and get a new one.
CVS MyHR Customer Support
CVS MyHR portal URL
http://myhr.cvs.com/ or https://beplb01.portal.hewitt.com/web/cvscaremark/welcome
myHR contact number
1-888-694-7287 (888-myHR-CVS). For Health and Welfare, Press 2. Call between 8:00 a.m. and 8:00 p.m. Eastern time, Monday through Friday.
CVSHealth benefit guide
http://mbspot2.com/ben/nh-welcome.html