Uber customer service could be contacted via http://help.uber.com. Besides that, you can contact Uber via Twitter at https://twitter.com/Uber_Support. If you issue is urgent and has emergency status there is an Uber phone number you can contact The phone number is 800-353-8237 or 800-353-UBER. Please note that Uber specifies this phone as "emergency only".
Uber Lost and Found
Forgot your personal item in Uber car? In that case you can always contact the driver and retrieve lost item. To do this you need to login to Uber at https://riders.uber.com/ and submit all details about your lost item. If your item was lost several trips ago it is better to use web interface since it allows reporting issues several trips back while app only allows reporting issues during the last trip. You can also read a help page from Uber about lost items at http://uber.com/lost
How to Contact Uber Support via App
Easiest ways to get to Uber support is from the Uber app. To do this tap on the "Sandwich" icon in the top left corner of the app. You will see a main Uber app menu as shown below.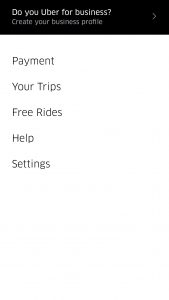 Tap on "Help" menu item.
You will see your most recent trip. If your issue is related to that trip then tap on it and you should see details of the trip on your phone screen.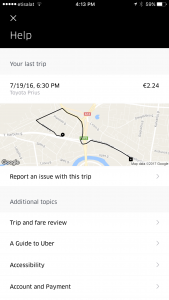 If your issue is not related to most recent trip you need to use web interface at https://riders.uber.com or select other options in Help like:
Trip and fare review
A Guide to Uber
Accessibility
Account and Payment
Driver with Uber
Delivery
Events and Inquiries
Business Travel
If you selected your last trip you will see a screen like one below.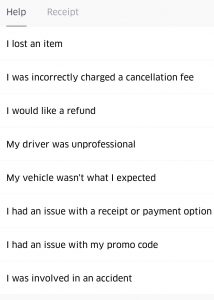 On this screen you need to select a specific issue which happened on your last trip and provide further details to Uber. Following options are available:
I lost an item
I was incorrectly charged a cancellation fee
I would like a refund
My driver was unprofessional
My vehicle wasn't what I expected
I had an issue with a receipt or payment option
I had an issue with my promo code
I was involved in an accident
Uber phone number
Uber doesn't have a call center and only emergency phone 800-353-8237 or 800-353-UBER is available. Alternatives way to contact Uner is via twitter https://twitter.com/Uber_Support or from your Uber app (see how to do it above).
Uber e-mail
There is no uber e-mail where you can write to. You either need to contact them regarding your trip from the app or login to Uber website with your details at https://auth.uber.com/login.
Uber contact customer service phone number
In emergency situations try using following Uber contact number: 800-353-8237